Green Butterfly Top at viktorviktoriashop.com is a must. With Britney Spears making her huge comeback this year, she's sure to be a popular Halloween Costume. Remember her incredible performance on the VMA's for "Slave 4 U"? She had the green butterfly top and the snake. Well viktorviktoriashop.com have the perfect Green Butterfly Top for the perfect Britney Costume.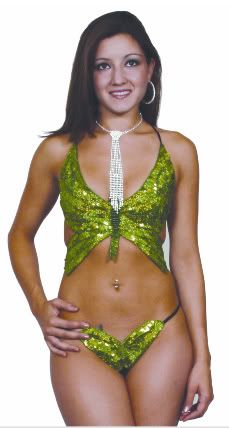 Check out the Performance!
Pair your Green Butterfly top with some teal booty shorts with Tulle hanging off of them and some great green lace up flats. And don't forget Britney had a great Snake wrapped around her for part of the performance, so carry around a stuffed snake while you're wearing your Green Butterfly Top. If you're looking to be a bit snarky with your Britney Costume you could wear your Green Butterfly Top and a skull cap that makes it look like you've shaved your head.
Check out the Performance Here!
If you don't want the Green Butterfly top, but want the top in another color check out the great selection of Butterfly tops we have available at viktorviktoriashop.com.