Do you have a fun night out on the town planned for next weekend with your honey or just the girls? You'll want something to catch their eyes so shop viktorviktoriashop.com and check out some of these great items!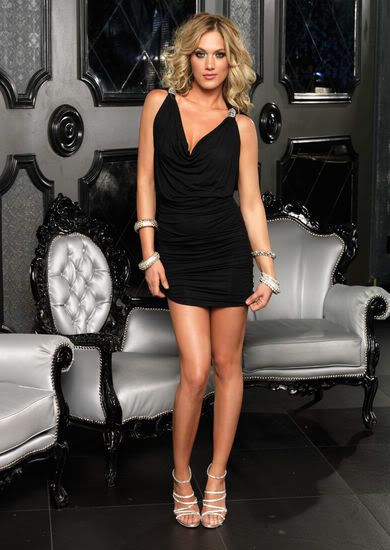 Why not make jaws drop in the Sexy Dress? This short, black, satiny dress gets the Rhinestone Strap Dress name from the cute, larger-sized decorative rhinestone pieces on the strap. The Sexy Dress looks great paired with sky-high heels and the Bow Seam Fishnets.
Since December is still chilly you may want something like the Bow Seam Fishnets to cover your legs. The Bow Seam Fishnets have the Cuban-heel style like back seam up the leg with little black bows attached to the seam. The bows on the Bow Seam Fishnets end right about where the hem of the Rhinestone Strap Dress hits so they won't conflict.
With the drape neck of the Rhinestone Strap Dress you don't need a necklace, but the Dramatic Rhinestone Earrings add some sparkle and drama. The Dramatic Rhinestone Earrings are post earrings with a diamond shaped stone attached to a ring of stones that have stone dangles connected. The Dramatic Rhinestone Earrings are large and very eye catching, perfect for a night on the town.
Whether single or attached viktorviktoriashop.com can make you look hot! Get the Rhinestone Strap Dress, Bow Seam Fishnets and Dramatic Rhinestone Earrings today and make em drool.